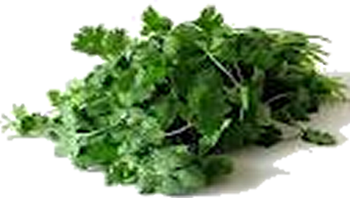 He causes the grass to grow for the cattle, and herb for the service of man: that he may bring forth food out of the earth; Psalm 104:14 AKJV
Herbs have been used for cooking, medicine, aromatherapy, religious ceremonies, pest control, and simply for decoration, since pre-Biblical times. Herbs offer a wide variety of plants that can be used for culinary and medicinal purposes. Plants that are referred to as "herbs" are not used as a food, but are grown and consumed as a garnishment, for flavor enhancement, for aroma, and sometimes for alleged healing properties.
A List of Bible Seasonings, Spices and Herbs…
Anise or Hyssop (Matthew 23:23 )
Aloe (Aloe vera) (Numbers 24:6 KJVA)
Coriander (Exodus 16:31; Numbers 11:7)
Cinnamon (Exodus 30:23; Revelation 18:13)
Cumin (Isaiah 28:25; Matthew 23:23)
Dill (Matthew 23:23)
Flax Seed (Exodus 9:30-32)
Garlic (Numbers 11:5)
Mint (Matthew 23:23; Luke 11:42)
Mustard (Matthew 13:31)
Rue (Luke 11:42)
Salt (Ezra 6:9; Job 6:6)
Are Herbs Safe?
Herbal supplements are used to boost your immune system, treat allergy symptoms, prevent a cold—all in an effort to be well, and stay healthy. There are hundreds of herbal supplements available in the grocery store, pharmacy, and for sale on the Internet. And, there are many claims about their health benefits. How can a consumer decide what's safe or effective?
Usefulness and Safety Of Biblical Herbs
I gathered a few facts on some commonly used biblical herbs. The following facts provide basic information about —common names, usefulness and safety. The information was published by the NCCIH, NCCIH cosponsors the Centers for Advancing Research on Botanical and Other Natural Products (CARBON) Program. Scientists at the centers conduct laboratory research concerning the safety, effectiveness, and mechanisms of action of botanical dietary supplements that have a high potential to benefit human health.
Aloe (Aloe vera) (Numbers 24:6 KJVA)
Cinnamon (Exodus 30:23; Revelation 18:13)
Flax Seed (Exodus 9:30-32)
Garlic (Numbers 11:5)
Mint (Matthew 23:23; Luke 11:42)
Disclaimer/ Disclosure
This information contained in this article is for information purposes only and. and it is not intended to substitute for the medical expertise and advice of your health care provider(s). We encourage you to discuss any decisions about treatment or care with your health care provider. According to the NCCIH the mention of any product, service, or therapy is not an endorsement by NCCIH nor do I endorse any products or methods used in the herbal informational facts.