The Internet is filled with millions of websites and almost any business idea you could think of. Some Internet business types are so common that the market is saturated and the competition is plentiful.
To be successful you have to come up with a unique idea or a better solution to an idea already available online! The key is finding your Niche Market! Targeting a niche market is an ideal way to build a profitable business on the Internet, which requires less overall investment.
Finding your Money Making Niche idea should be hypothetically speaking like finding the love of your life, you want to spend time with it, from time to time it enters your mind without warning, and into most of your conversations and sometimes seems to be the total sum of what you live for, and even takes on the appearance of an addiction! An undeniable passion!
There are two important ingredients that go into finding your million-dollar money-making niche idea, it should be something you are passionate about and something you are knowledgeable about!
Research And Again I Say Research:
Follow along as Ms. Mary Flower-head (not a real person) researches the profit potential of her Niche business idea!.
Ms. Mary Flower-head is an ordinary person, just like you and I. She is a teacher by day and a hobbyist by night. Her hobby is making "handmade dolls" which she is passionate about!
One day an idea struck her so powerfully, it almost blew her brains out! She could make and sell handmade dolls on the Internet, she thought! Ms. Mary Flower-head is actually targeting a niche market.
What is a Niche Market?
A niche market is the subset of the market on which a specific product is focused. The market niche defines as the product features aimed at satisfying specific market needs.
For example, there are all types of dolls and materials and methods used to make them, "dolls" is a small segment or niche of the toy manufacturing industry. Instead of focusing on the Toy industry as a whole, you would build a profitable business on a small part of that industry, in this case, handmade dolls.
I think we all can agree that one of the biggest advantages of business is knowing what people want. Surveys are based on the idea of gathering information that would lead to the discovery of what people like and want.
What is Google Trends?
Simply put Google Trends- is a window into what people are searching for on the Internet using the Google search engine. Google trend is a free tool that can be used for Internet marketing research. It allows you to tap into Google's database of searches.
Google Trends is a public web facility of Google Inc., based on Google Search, which shows how often a particular search term is entered relative to the total search volume across various regions of the world, and in various languages.
Using Google Trends
To begin using Google Trends visit https://trends.google.com and enter into the search bar your desired niche business idea. Using the example of Ms. Mary-Flower-head I will enter handmade dolls. If there is enough interest in the search term handmade Dolls Google Trends generates a report.
The report answers the following questions based on the search term entered:
1. Is there any interest in Handmade Dolls?
2. When is interest highest?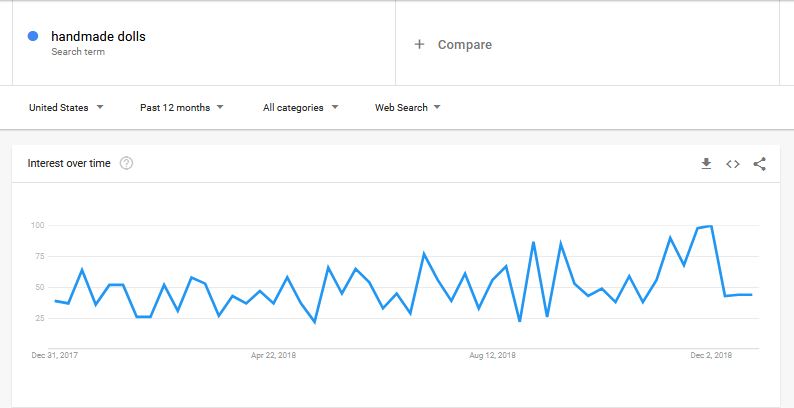 3. Which regional areas have the largest amount of Internet users searching for handmade dolls?.

4. Scrolled down the page under the related queries section there was not enough data to produce a report.
5. The Related topics Section, gives you an upfront advantage of knowing what related topics people are searching for. In the example below I see Internet users are also searching for sewing and sewing patterns based on the search term handmade dolls.

Knowing what people are interested in can trigger solid business ideas.
Is it a Profitable Business Idea?
Let's say you have an Internet business idea that Internet users are searching for, the next step is to research the competition. Internet competition is a key factor in determining if an Internet Business idea has the potential to be profitable. Million-dollar niche market ideas will be the ones with little to no competition.
We will turn to Google.com for the answer. Google.com is considered the top search engine used by millions to search the Internet.
Armed with all the information gathered on possible niche business ideas, enter your search term into the search engine. In my example, I will enter Handmade dolls.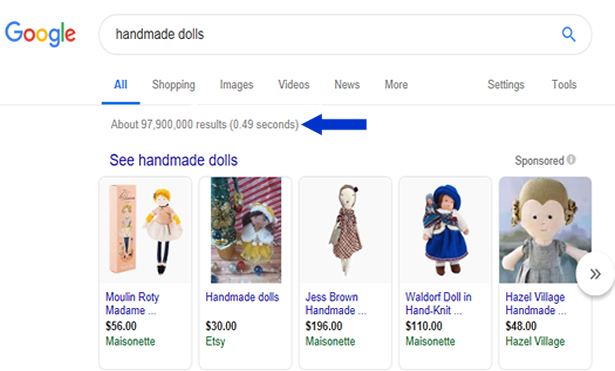 Keep in mind that a potentially profitable business idea will be the niche market idea that people are searching for, based on your research, that has little or no competition on the Internet.
Continue to use this method, until you find your niche business idea that people are searching for that has low competition. Try experimenting with various search terms related to your niche idea. The lower the competition for your niche business idea the greater the success rate!