Selling Online is one of the fastest-growing sources of mail-order sales. It's estimated that e-commerce sales have been growing nine times faster than traditional in-store sales since 1998. According to The U.S. Census Bureau's report on retail sales in the US, the total e-commerce sales for 2019 are estimated at over $600 billion dollars, in revenue and it is expected to continue growing! It is also one of the quickest and easiest ways to begin making money online.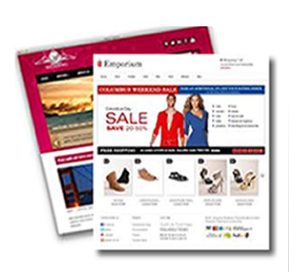 Many consumers have turned to e-commerce as a matter of convenience or to increase the variety of goods available to them. Whatever the reason, retail e-commerce sales have skyrocketed and the Internet will undoubtedly continue to influence how consumers shop. With so much potential in the market, it's the perfect time for entrepreneurs to get started selling products online. As the Internet has become ubiquitous, many retailers have created websites and even entire divisions devoted to fulfilling online orders.
My Story
Selling online is also my success story! When my husband and I first started selling on the Internet, I looked at the fact that my husband was good at woodworking and he had a passion for it. Since I had extensive knowledge of how to use the Internet for business, I thought about my husband's passion for woodworking, my creative juices begin to go into overdrive, thinking about his skills and my knowledge of the Internet.
To make a long story short we started out in the business offering our very own unique designs of unfinished wooden products. The business did quite well and it took off quickly! One of our wooden boxes was featured on the Martha Steward Show back when she was hosting a craft show on TV. Our Wooden Box business was also featured on an episode of Extreme Home Makeover!
Benefits of selling online
• Direct access to your customer base.
• E-commerce sales can reach a large customer base locally, regionally, or nationally.
• For customers, ordering through a well-designed website can be more convenient, allowing them to make purchases from anywhere on their own schedule.
• Receiving customer orders or inquiries via email or online allows you to respond when it is most convenient and can reduce data entry.
• Websites are highly "sharable" via social media and links which can facilitate connections among the target market.
Is it a Hobby or A Business
No matter what you decide to sell online according to the IRS.. it is not a hobby if you are buying and selling goods online with the intention of making a profit which most people selling online are, then you are in Business. Therefore you are required to report your income earned from selling products or services online to the IRS.
Getting Started In E-commerce
E-commerce is commercial transactions conducted electronically on the Internet. E-commerce is not just about using a website, email list, or social media to promote your products to customers, though those are important marketing tools. E-commerce also includes processing orders and sales transactions online via your own website or through an e-commerce marketplace.
It can be difficult to keep up with all the options for selling online, websites, mobile phone apps, various credit card, and electronic payment options, as well as new ways of delivering products. To get started, it can help to consider two primary ways to sell products online:
1. E-commerce (Shopping Cart) Software:
An e-commerce shopping cart is a piece of software that facilitates the purchase of a product. Web-based E-commerce systems are used to manage online sales. Having your own online store gives you the most control and cuts out the middle man and added fees charged in online marketplaces. Build your own online store and save.
2. Sell in A Third Party Marketplace
The ideal situation would be to utilize marketplaces along with having your own store since online marketplaces can expose you to more potential customers when you are first starting out. Three popular online marketplaces are eBay, Etsy, and Amazon.
Sales Tax Permit
As a retailer, you may be required to collect sales taxes on behalf of your State Revenue Office if your State imposes a sales tax.
The Sales Tax ID Will Serve Two Purposes:
The Sales Tax Id gives the seller of retail products the right or permission to collect sales taxes from their customers on behalf of the government. You are required to remit the sales tax to the state revenue office monthly or semi-annually depending on your state tax requirements.
The sales tax permit enables you to purchase products or supplies from a wholesaler and not have to pay sales tax, as long as the products or finished product is intended for resale to the general public.
Apply For A Sales Tax Id:
Contact your State Revenue Office for more information on the sales tax permit or re-sellers certificate requirements for online sellers.
Accepting Online Payments
1. A Merchants Account:
A merchant account is a type of bank account that can help e-commerce businesses process payments over the Internet. It allows businesses to accept payments in multiple ways, typically debit or credit cards.
Most Banks offer merchant accounts for accepting online payments. In most cases banks will require you to pay a monthly fee or maintain a certain balance, otherwise you may be charged a fee whether or not you are making money. A merchant account is established under an agreement between an acceptor and a merchant acquiring bank for the settlement of payment card transactions. You'll need a business checking account for your funds to be deposited.
Payments are processed through a payment gateway via your website and you will be required to purchase an SSL certificate to accept payments on your website. Depending on the hosting company you use, the cost of an SSL certificate varies.
If you are on a tight budget Let's Encrypt offers free SSL certificates but there is a learning curve to installing it and you have to renew it every 90 days. Some hosting companies will offer free installation.
Free Merchant Account Providers
A quick and easy way to begin accepting online payments is to use one of the free merchant accounts services available on the Internet. They normally do not require you to pay a standard monthly statement fee charged by some banks and you can start quickly and easily by simply signing up for an account.
Paypal.com is an eBay-owned company, a trusted brand with a long history of processing payments on the web. PayPal allows individuals and businesses to transfer funds electronically. It is an alternative to paying with traditional paper methods, such as checks and money orders.
Stripe is fairly new in comparison to Pay Pal but is quickly becoming popular. Stripe allows both private individuals and businesses to accept payments over the Internet.
Steps to Develop an eCommerce Strategy
-Objectives: What do you want your online presence to achieve?
-Are you looking for an active sale through your website, or are you educating potential buyers about your brand and products?
-Target Market and Audience: Who are your buyers? Businesses? Young consumers? This will determine how to build your online presence
-Competitor Analysis: Who are your closest competitors? What makes them successful online?
-Website Feature List: Create a simple mockup of what functions and abilities you want your site to have before you decide on a professional web developer to help you. Will it be mobile-friendly? Do you need to have a separate mobile app?
-Choose the Right Channel Mix: Select the best eCommerce sales channels to pursue sales in your target market(s) so that consumers can easily find your company and products and learn about your company.
Communicating with customers
Customers like doing business with businesses that offer live customer service. It is a good idea to have a phone line for your small business separate from your personal phone.
PO Box Versus Using a Home Address
Setting up a small business Post Office box is very simple and the investment is minimal. A Post Office Box is like having a virtual office address. PO Boxes help to increase a small business's professional profile by providing postal addresses that are indistinguishable from larger competitors.

Some other reasons to consider a PO Box are:
It does not expose your home address in your advertisements.
It protects incoming packages from theft,
It provides home business owners with anonymity on the Internet.
It eliminates the need for a change of business address if the business relocates.