Building an eCommerce store from scratch is the most traditional option. It takes some work to get all of the pieces together. But it also gives you the most control and cuts out the middle man and added fees charged in online marketplaces. There are many different free open-source options you can use to build your own online store for free. There are two components needed to begin selling online:
1. A Merchants Account:
A merchant account is a type of bank account that can help e-commerce businesses process payments over the Internet. It allows businesses to accept payments in multiple ways, typically debit or credit cards.
Most Banks offer merchant accounts for accepting online payments. Some will require you to pay a monthly fee or maintain a certain balance otherwise you may be charged a fee whether or not you are making money. A merchant account is established under an agreement between an acceptor and a merchant acquiring bank for the settlement of payment card transactions. You'll need a business checking account for your funds to be deposited.
Payments are processed through a payment gateway via your website and you will be required to purchase an SSL certificate to accept payments on your website. Depending on the hosting company you use, the cost of an SSL certificate varies.
If you are on a tight budget Let's Encrypt offers free SSL certificates but there is a learning curve to installing it and you have to renew it every 90 days. Some hosting companies offer free installation.
Free Merchant Account Providers
A quick and easy way to begin accepting online payments is to use one of the free merchant accounts providers on the Internet. You are not required to pay a standard monthly statement fee charged by some banks and you can start quickly and easily by simply signing up for an account.
Paypal.com is an eBay-owned company, a trusted brand with a long history of processing payments on the web. PayPal allows individuals and businesses to transfer funds electronically. It is an alternative to paying with traditional paper methods, such as checks and money orders.
Stripe is fairly new in comparison to Pay Pal but is quickly becoming popular. Stripe allows both private individuals and businesses to accept payments over the Internet.
2. E-commerce (shopping cart) Software:
An e-commerce shopping cart is a piece of software that facilitates the purchase of a product. Build your own online store with free Web-based business applications, E-commerce systems (also known as shopping carts) are used to manage online sales. The Internet is filled with free eCommerce software you can use to build online stores, the following is a list of free applications that have been around for a while and are widely popular.
WooCommerce
WooCommerce is an open-source e-commerce plugin for WordPress. It is designed for small to large-sized online merchants using WordPress. Launched on September 27, 2011, the plugin quickly became popular for its simplicity to install and customize and free base product. The only requirement is that you are familiar with how to use WordPress.
Cons: Since woo-commerce is an add-on e-commerce plugin you may have to add additional plugins to get specific features you may want, that some eCommerce software applications already include straight out of the box ,.
Magento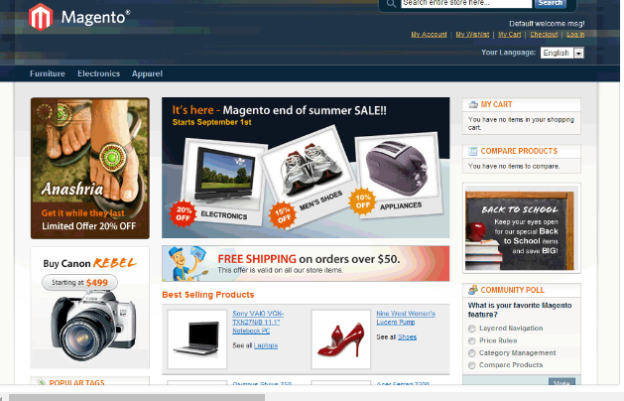 Magento is an e-commerce application unlike WordPress woo-commerce, Magento is used specifically for setting up online stores. Magento offers a powerful free open-source e-commerce shopping cart application. Initially released in 2008, Magento has grown rapidly to serve more than 110,000 merchants worldwide.
Magento provides the scalability, flexibility, and features for business growth. Merchants using Magento have complete flexibility and control over the presentation, content, and functionality of their online channel.
They offer a free version and a paid version which is best suited for larger businesses.
Cons: For the most part, Magento for small businesses is free and open source but Magento is not easy to use if you are a beginner.
OpenCart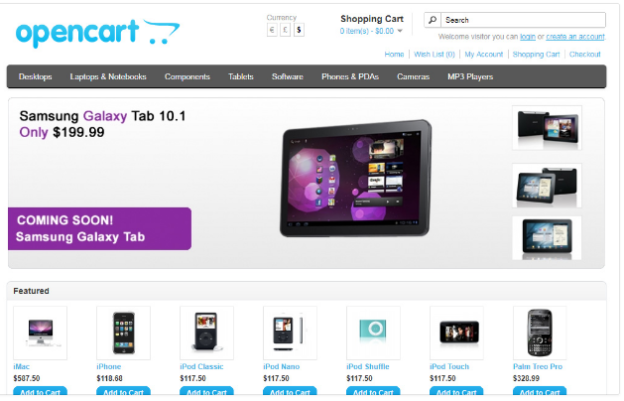 OpenCart is an online store management system. It is PHP-based, using a MySQL database and HTML components. Support is provided for numerous languages and currencies. Offering everything you need to create, scale and run your business. Powerful Store Management, benefit from our built-in SEO, easy manage products, customers, orders, tax rules, coupon codes, and more. OpenCart is designed feature-rich, easy to use, search engine friendly, and with a visually appealing interface.
Cons: Many of the add ons used to add more functionality to your site are premium add-ons meaning you will have to pay for them,
ZenCart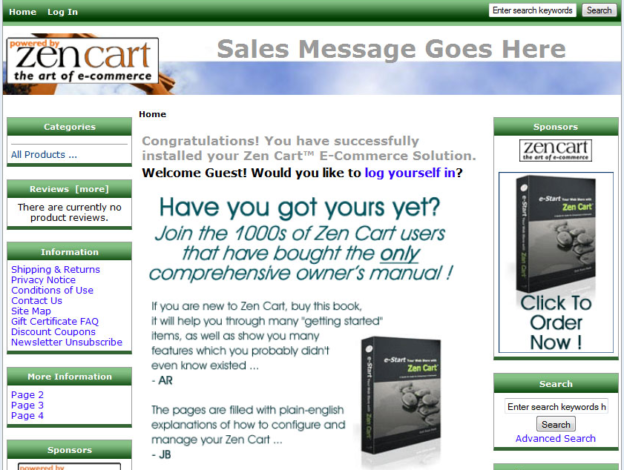 Zen Carts has been around for over a decade, its easy-to-use interface enables anyone who can read, write, and follow instructions to set up a store online in no time at all. It has never been easier to operate your very own Online Store and jump start your sales on the web than with Zen Cart.! Zen Cart can be installed directly to your existing website.
Cons: Zen Cart some things are somewhat hard to figure out and you will have to depend on their forums to find answers.